I am finding that one of the best ways to be inspired to make meaningful art is to talk to other artists, even artists who create in a totally different art form than you. Early on in the conversation you usually find out why they create what they do, what drives them to create in their unique way. If you feel creatively stuck, talk to other creators. It will help. You will start thinking about why you create in the way that you create.
I had an opportunity to talk to an artist a few days ago. Our son played a gig at an Open House at a jewelry gallery and studio with his guitar teacher in Evanston, Illinois last weekend. We, of course, went to see him play and when we walked in to the store, we felt like we were in a magical underground cave in the ocean. The jewelry gallery and studio is called Eve J. Alfillé Gallery . Eve has run her jewelry gallery and studio for 35 years. Her work is exquisite. Her longevity in business is inspiring. Talking to Eve was fascinating. We were looking at the case of beautiful necklaces and earrings and Eve the artist who created them all was standing on the other side of the case. I was looking at a pair of oval shaped black pearl drop earrings with a sheen like I have never seen. Eve told us how it's hard to find the same oval shape because she said humans try to force oysters to make perfect spheres. In this case, finding two oysters making pearls their own way is more difficult. She said the oysters rebelled and said no to human interference. I knew this artist was very interesting at that point. I liked her immediately.
As we were talking, she told us she was an archaeologist before becoming a jewelry artist. Looking at some of the pieces, it made perfect sense. Many pieces had the look of antiquity with her use of cameos and pressed gold with intaglios of ancient scenes. She talked about her work with museums and how in the past when you were trying to re-create a piece of pottery they would paint in the replacement pieces to match. They no longer do this in museums. She thought now it is much better because it is obvious which pieces are authentic and which were added only for the structural integrity of the pot.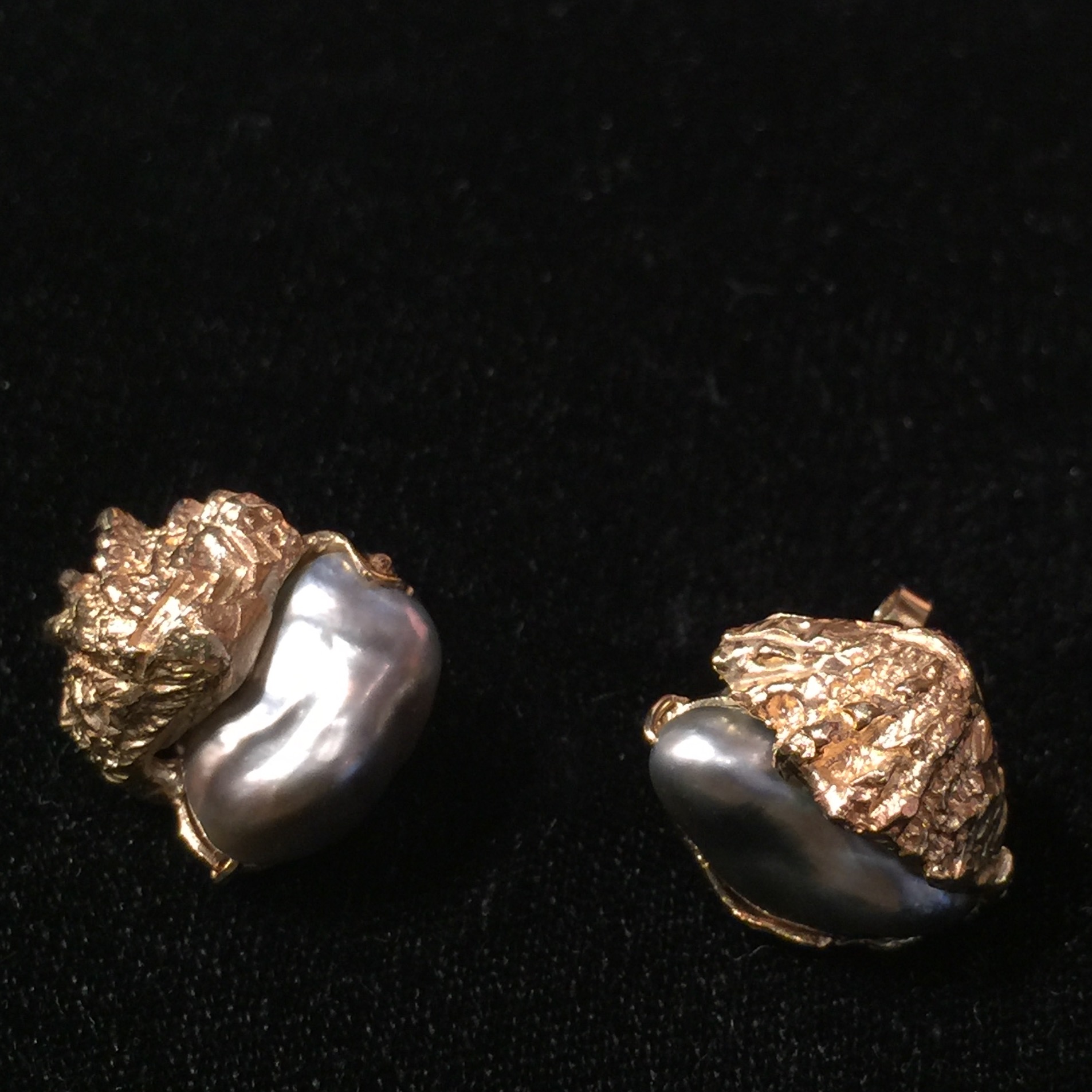 Eve's Black pearl and gold earrings
I fell in love with these.
We talked about all sorts of things. She also shared a great idea for a family trip, to go work on an archaeological dig. She said check out the Association of Archaeologists website and find out what digs need help. You pay to get there. You give free labor. But what an experience. She also explained the history of the decline of the pearls in Japan with red tides and disease wiping out the small monoculture area, never to return. She talked about the rise in the pearl industry in China, Vietnam and Tahiti. Of real interest to me since I am so curious about creative routines, she talked about her creative process and how it does not just happen on a schedule. She was creating pieces for that show the night before the open house. She also admitted that certain family members who have a more strict sense of time find her need for the deadline adrenaline rush a bit challenging. I am sure many artists can relate to that.
So much information about her as an artist in a 10 minute conversation. Always an interesting conversation when artists talk authentically about what is important to them.
I include a photo of the earrings I was interested in to show the mastery of this artist. I love the unique shape of the black pearls and how she used the shape to build a piece to make it a combined "circle."
I was so struck feeling like you are in an underwater magical place once you enter the gallery. Eve said she didn't want to be in a cold and white minimalist gallery. Many jewelers use that aesthetic now especially at art shows. She said that as a child she'd always love the idea of walking into a cave. It was a rectangle storefront but it had been transformed into an under the sea magical place.
The beauty of this was seeing how she knows what she likes to create, bringing her past experiences and selling more of an experience than just a piece of jewelry.
This is fascinating to me as I am thinking about how to find my perfect customers for my art by being true to myself and having it come out in every single aspect of my business. Eve is a perfect example of this to me.
And of course, hearing so many of the sales women at the store saying how wonderful our son did and how talented he is for still being so young, made us even more happy and proud of him than we already were. All in all, a good Saturday.